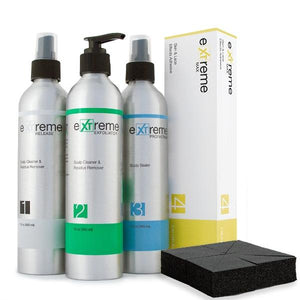 eXTreme Max Adhesive Kit: 5 oz., 147.8 ml Tube, Adhesive Remover, Scalp Cleanser & Bond Spray
The eXTreme PRO SERIES Application Kit is designed for clients with extreme demands. If your clients live in climates that are hot and humid or simply need extended wear, this is the perfect application kit to add to their regimen. The bond will not break down with moisture and the airtight tube allows you to use every last drop. 
INCLUDED IN THE KIT:
Step1, eXTreme PRO SERIES RELEASE   |  10 oz (300 mL)
an innovative scalp cleanser that also effectively removes most types of bond residue. eXTreme PRO SERIES RELEASE effectively cleans your client's scalp in one easy step.
Step 2, eXTreme PRO SERIES EXFOLIATOR   |  10 oz (300 mL)
provides deep cleaning and removal of dead skin cells and debris, leaving the scalp and hair thoroughly clean.
Step 3, The ultimate preparation product, eXTreme PRO SERIES PROTECTION+   |  10 oz (300 mL)
specially formulated for the protection of the dermis to prevent the release of deep seated sebum and grime, leaving the treated area thoroughly dry, clean and sealed.
Step 4, eXTreme PRO SERIES MAX | 5 oz (148 mL)
a non-toxic, non-flammable application. Non latex. Include eXTreme PRO SERIES MAX Adhesive in your client application regimen.
X20 Sponges
Non-suction, non-absorbent rubber utility sponge with great functionality. Ergonomically shaped, it is perfect for all types of adhesive applications.